学割パス販売開始! 平日19時以降お得なナイトパスも登場 Student discount Pass now on sale! A new Night Pass on weekdays after 7pm is also available.

2019年2月1日~4月7日の入場日限定で、学生割引価格のエントランスパスを販売開始しました。
大学生・大学院生・短大生・専門学生
2,000円~2,500円(通常2,400円~3,200円)
中学生・高校生
1,200円~2,000円(通常1,900円~2,400円)

また、2月分より平日割引に加え、よりお得なナイトパスも登場。
平日19時以降はお得なナイトパスでご入場いただけます。
※3月25日から4月5日までは土日祝日料金となります。ご了承ください。

Entrance Pass for Student Discount Tickets are now on sale for the designated admission date between Feb, 1st to Apr, 7th,2019.
University students, Graduate students, Junior college students and Specialized students
2,000 yen to 2,500 yen (List price 2,400 yen to 3,200 yen)
Junior high school students and High school students
1,200 yen to 2,000 yen (List price 1,900 yen to 2,400 yen)

On top of that, from February, we are not only providing the weekday discount tickets, but also the great deal Night Pass.
The great deal Night Pass is applied for the ticket admission time after 7pm on weekdays.
*Tickets prices from March 25 to April 5 are registered as Holiday tickets. Thank you for your understanding..

Toyosu, Tokyo
15 minutes by taxi from Tokyo Station / 15 minutes by expressway use from Haneda Airport
Immersed Bodily with Others
Become bodily immersed in a massive art space.
teamLab has been producing artworks with the Body Immersive concept for many years. teamLab Planets is a massive Body Immersive space consisting of a collection of installations in which the entire body becomes immersed, and the boundaries between the viewer and the work become more abstract.
Ticket types
Weekdays

~19:00 : 2,700 JPY / 19:00~ : 2,400 JPY (Night Discount)
The marked price is for the basic charge (adult).
Others: University students / Specialized students / Junior high school students / High school students / Children (Ages 4-12) / Seniors (65 Years and above) / Disability discount
Watch tickets on sale
Purchase a Ticket Online

Tickets can be purchased with credit card or UnionPay Card.

View Details

Can also be purchased at the venue

Same-day and advance tickets may be purchased at vending machines at the venue with cash, credit card, or Alipay.

View Details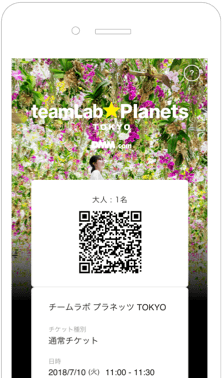 Using a QR Ticket
Display the QR Ticket

After you've completed your purchase, an email with a URL link to your QR ticket will be sent 2 days prior to the event.

Show your smartphone to enter

Show the QR ticket screen on your smartphone at the gate to enter.

You may also print out the ticket on paper.