新作公開記念クーポン割引実施。対象期間中は全日30%OFF    <30% Discount Available>

チームラボプラネッツ TOKYOの新作公開を記念し、期間限定で販売中のチケットが30%OFFになる割引クーポンを発行しております。
この機会に、ぜひご利用ください。

クーポンコード:planets
対象入場期間:2020年10月1日(木)~2021年2月28日(日)
使用方法:チームラボプラネッツの公式サイトでチケット購入時にクーポンコード「planets」を入力し「適用」ボタンを押すと、30%OFFの割引価格で購入できます。

※チケット購入時にクーポンコードが未入力の場合は、割引になりません。
※クーポンを利用して購入したチケットは、入場日時変更ができません。
※公式サイトからの購入のみご利用いただけます。
※期間中、何回でもご利用いただけます。


In commemoration of the release of the new artwork at teamLab Planets TOKYO, we are issuing a discount coupon for tickets for a limited time where tickets will go on sale for 30% off.
Please take advantage of this opportunity to visit teamLab Planets.

Coupon Code: planets
Coupon discount period: Thursday, October 1, 2020 - Sunday, February 28, 2021
How to use: Enter the coupon code "planets" when purchasing a ticket on the official website of teamLab Planets, you can apply the discount code for 30% OFF.

* If you do not enter the coupon code, the discount will not be given.
* Please be aware that you cannot change the admission date/ time for tickets purchased through coupons.
* The coupon can only be used on the official website.
* The coupon can be used any number of times during the period.
Toyosu, Tokyo
15 minutes by taxi from Tokyo Station / 15 minutes by expressway use from Haneda Airport
Immersed Bodily with Others
Become bodily immersed in a massive art space.
teamLab has been producing artworks with the Body Immersive concept for many years. teamLab Planets is a massive Body Immersive space consisting of a collection of installations in which the entire body becomes immersed, and the boundaries between the viewer and the work become more abstract.
Ticket types
Entrance Pass
Adults

(18 Years and above)

3,200 JPY

University / Specialized students

2,500 JPY

Junior high school / High school

2,000 JPY

Children

(Ages 4-12)

300 JPY

Under 3 years of age

Free

Seniors

(65 Years and above)

2,400 JPY

Disability discount

1,600 JPY
Watch tickets on sale
Purchase a Ticket Online

Tickets can be purchased with credit card or UnionPay Card.

*You can also buy tickets in the play guide below. Lawson Tickets Seven-Eleven Tickets FamilyMart

View Details

Can also be purchased at the venue

Same-day and advance tickets may be purchased at vending machines at the venue with cash, credit card, or Alipay.

View Details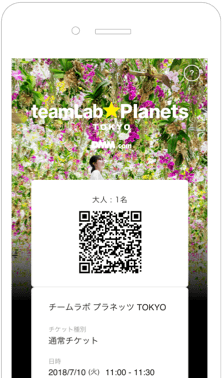 Using a QR Ticket
Display the QR Ticket

After you've completed your purchase, an email with a URL link to your QR ticket will be sent 2 days prior to the event.

*The QR code will be displayed after 0:00 on the day of admission.

Show your smartphone to enter

Show the QR ticket screen on your smartphone at the gate to enter.

You may also print out the ticket on paper.